Research Update. Wendy McFadden-Smith. July 2019
Mealybug and Scale Management
We have been monitoring several vineyards this season for mealybugs and scales again this year.

The two graphs below show the progression of mealybug development since May in two vineyards that have not treated for mealybug previously.  Adult females and egg clusters have been detected for the past 2 weeks so it's time to consider a Movento as soon as possible if you know mealybugs and leafroll disease are present in your vineyard.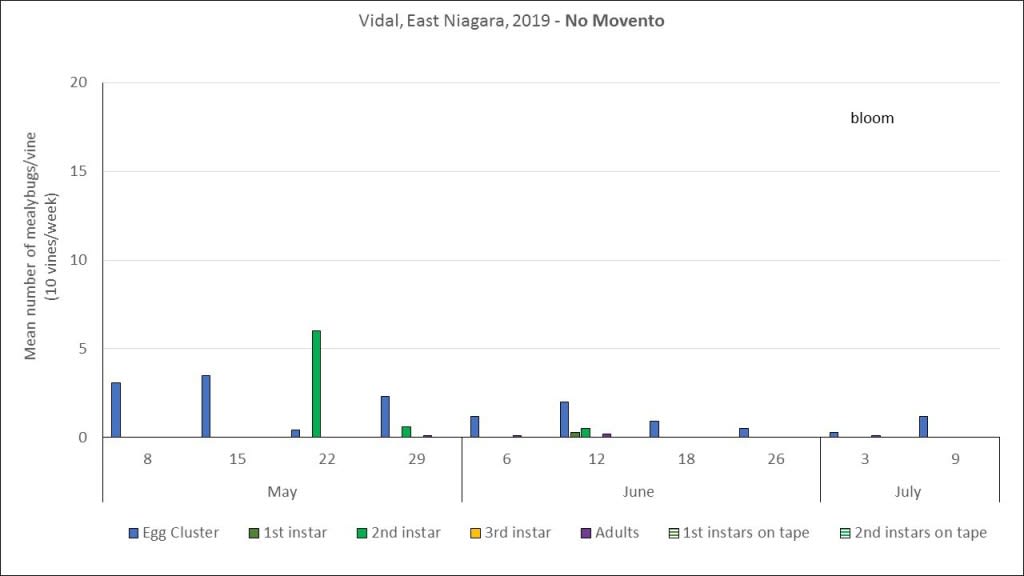 Mean number of mealybugs per vine in Vidal in East Niagara in 2019, no Movento applied previously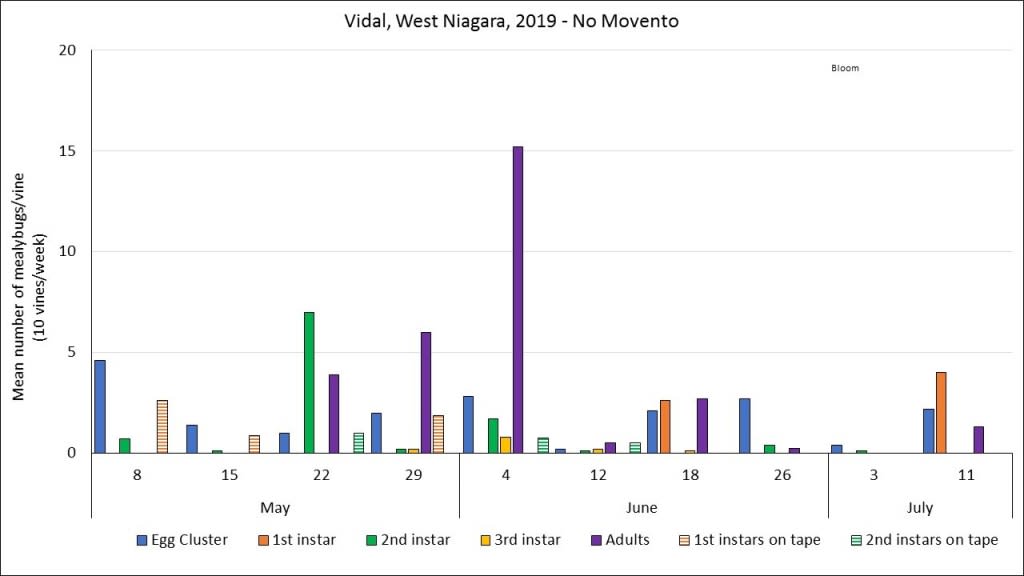 Mean Mealybugs/Vine in Vidal, West Niagara, 2019 with no Movento applied previously

Does Movento work?  Is it required every year?
The graphs below show the changes in mealybug counts from 2018 to 2019 after 2 sprays of Movento at 460 mL/ha in blocks with different levels of infestation.  In the first site (Cab franc, East Niagara) there was a significant decrease in the number of mealybugs.  For this vineyard, at least one spray of Movento is recommended.   We will continue to monitor to see whether a second one is required this season.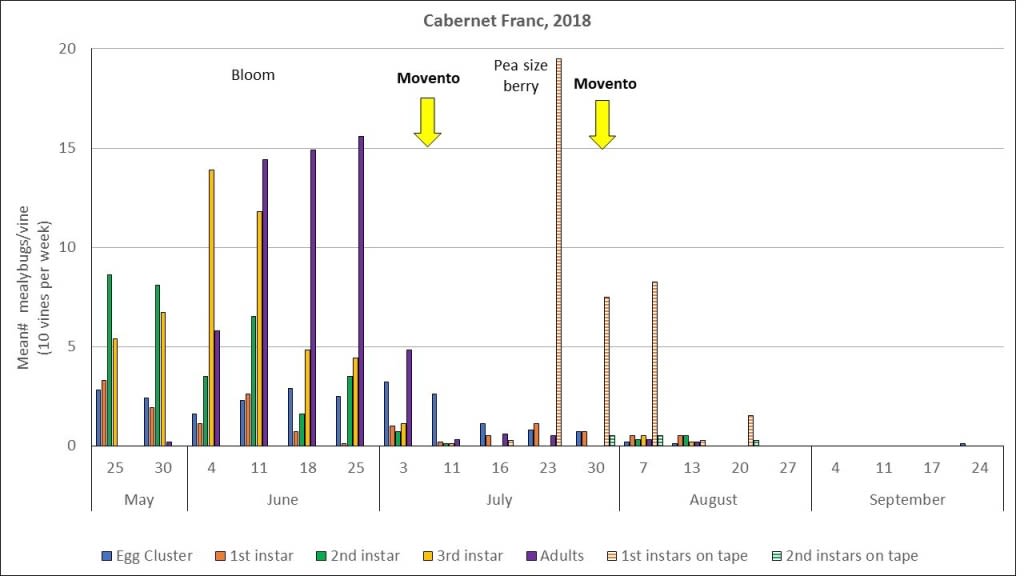 Mean mealybugs/vine in Cabernet Franc, 2018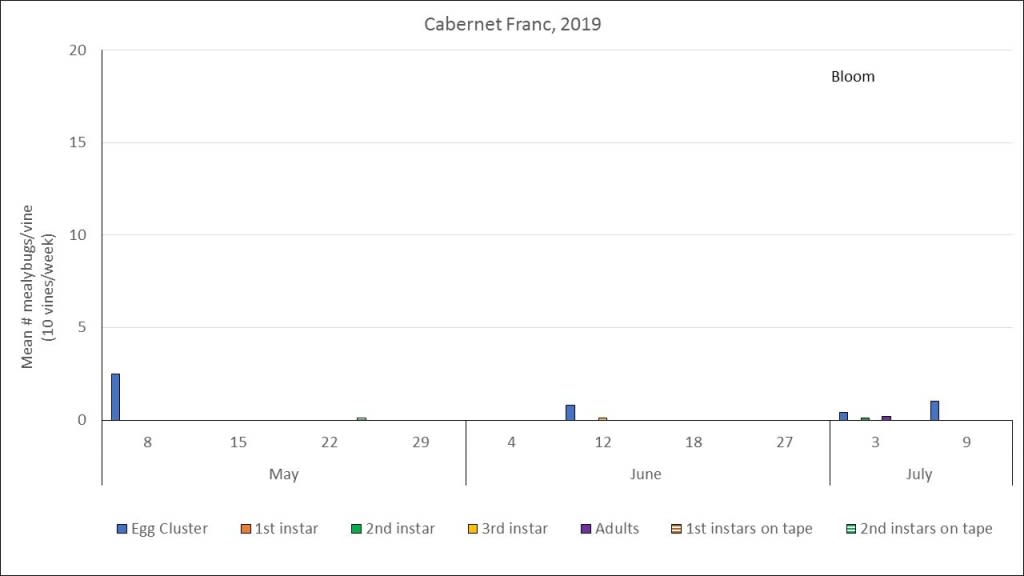 Mealybugs/vine in Cabernet franc, 2019

The population at the second site was considerably lower.  Monitoring stopped after the second Movento spray in 2018.  In hindsight, looking at the egg cluster counts in May 2019 we should have continued to monitor for the remainder of the season.  A spray of Movento was applied July 14 this year.  We will continue to monitor for the remainder of the season to determine whether a second spray is required.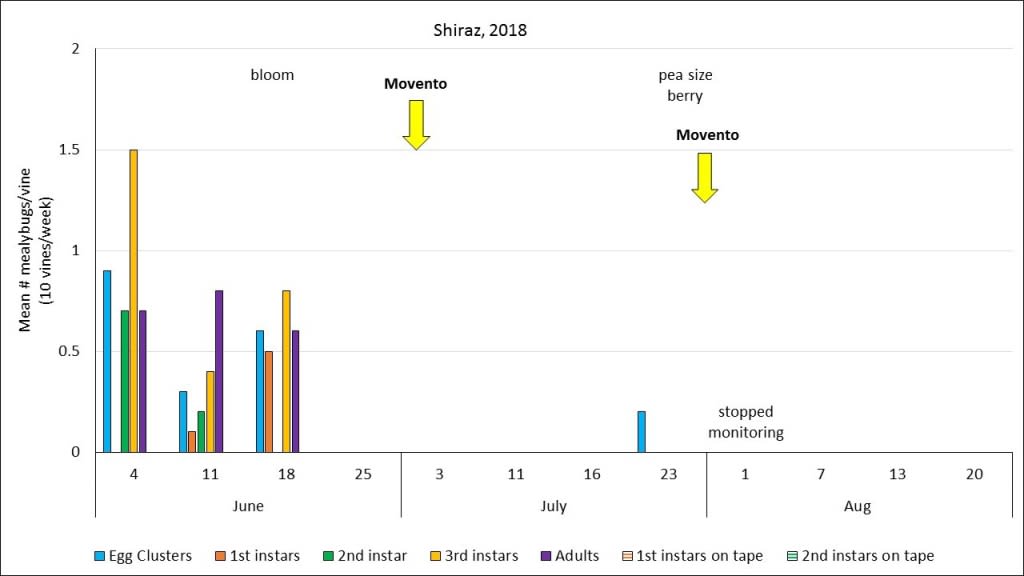 Mealybugs/vine in Shiraz, 2018
 

Mean Mealybugs/vine in Shiraz in 2019 sprayed twice with Movento in 2018
In the third site, Movento was applied only once.  The population was lower but started to creep up later in the growing season in 2018.  In the spring of 2019, the population was lower than in 2018 but started to increase in the second generation.  The most recent count shows a spike in first instars.  In hind sight, a second application of Movento in 2018 might have kept the population lower in spring 2019.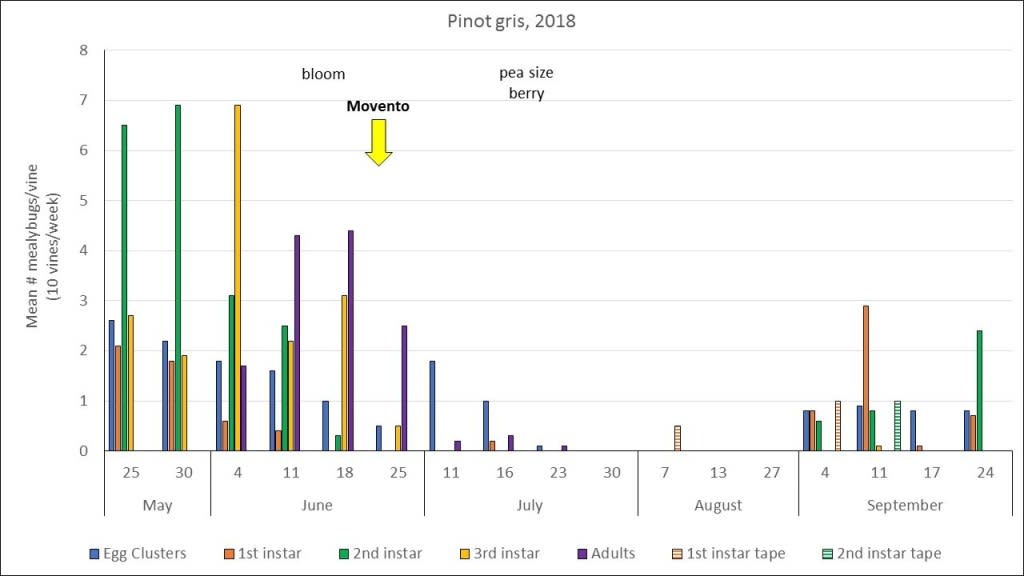 Mealybugs/vine in Pinot gris, 2018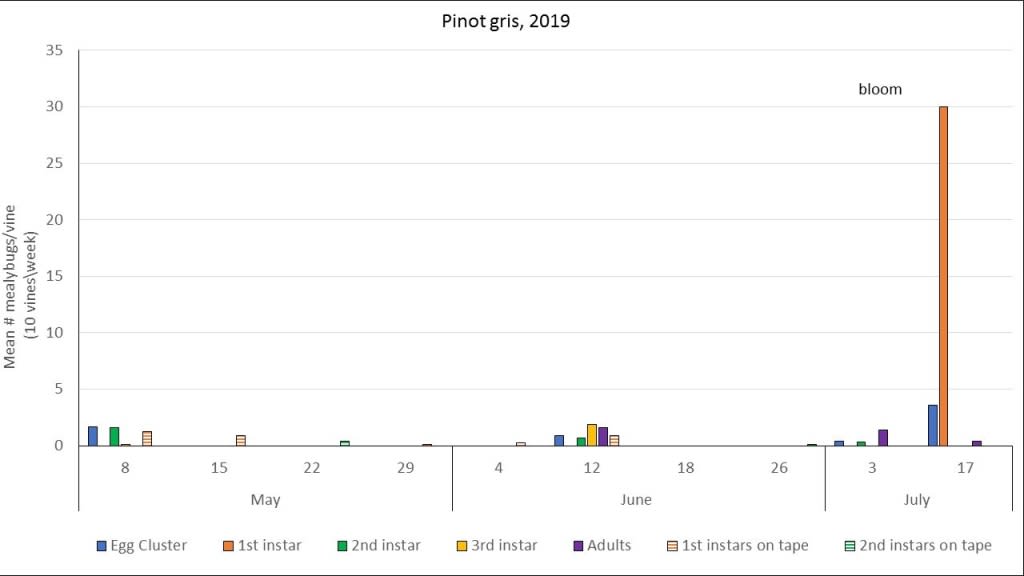 Mealybugs/vine in Pinot gris, 2019

How much mealybug is too much?
A threshold for mealybug has not been developed.  However, a single crawler feeding on an infected vine and moving to a healthy vine to feed can successfully transmit grapevine leafroll virus.  Each egg cluster contains about 50 eggs, each of which can hatch to produce a new crawler capable of transmitting leafroll virus.  Also consider that we are looking at only 10 vines per week and the values in the graphs are mean values.    For example, at one date, the number of first instars ranged from 81 on one vine to 0 on most vines.  The bottom line is if you have mealybugs (or scales – not mentioned in this post but also leafroll virus vectors) and leafroll in your vineyard, applying a spray at this time will at least reduce the spread of leafroll in your vineyard.

Click to read the full report HERE